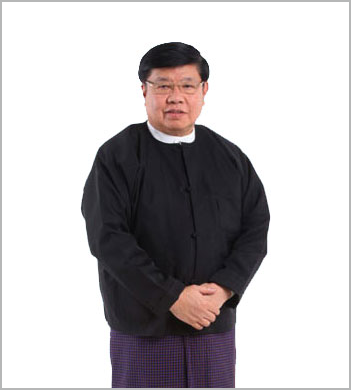 I would like to mention that 2019 is a proud and special year for our Company.
Firstly, on 21st August 2019, H.E Daw Aung San Suu Kyi, the State Counsellor, visited Thilawa Special Economic Zone for the first time accompanied by the Union Ministers from the Cabinet, U Phyo Min Thein, the Chief Minister of Yangon Regional Government, and the other ministers. I would like to inform our Shareholders that, during the visit, she was very happy with the momentous development of the Special Economic Zone, and also stated that since SEZ includes not only the high quality manufacturing facilities but also the residential buildings, the security as well as the benefits is also crucial in the successful development of the Special Economic Zone.
          Secondly, on 5th March 2020, MTSH has successfully been awarded for Gyogone Housing Redevelopment Project", the tender which was invited by Yangon Regional Government and Department of Urban and Housing Development (DUHD). This development project is located on 17 acres of land in West Gyogone, and it is also located near Yangon Institute of Technology (YIT) between Insein Main Road and Baho Road. It is also near the Gyogone Railway Station. This is for the re-development of Staff Housing with International standards with the purpose of overall social, economic, health and educational development. The upgrade of circular railway network and new lines extension at Insein Railway Station by Government with the support of the Loan from Japan as part of Transit Oriented Development (TOD) will be a key to unlock the success of our Gyogone project. Moreover, the project is not far away from the second CBD project in Mindamma Road. Therefore, the advantages of the location of the Project will help MTSH as a prime real estate project which will generate profits in the future. We will continue to seek more opportunities to participate in the projects which will generate returns to our shareholders and which will also play important roles in the development of the Nation's Urban and Housing Based Facilities.
          Thirdly, as per the Security Exchange Commission of Myanmar (SECM)'s liberalization of foreign participation in the Yangon Stock Exchange, the trading of shares has been allowed for both resident and non-resident foreigners since March 20, 2020. Accordingly, MTSH Board of Directors has unanimously decided to allow up to 5% of shareholding in MTSH for the foreigners at the beginning and will expand the foreigners trench when the demand grows further and if it benefits the Company. I would proudly like to inform that, at present, among YSX listed companies, MTSH is the Company with the highest demand for shares purchase from both Myanmar Citizens and the foreigners.
          Due the change in reporting period for a financial year by the Government, this year's annual report and the financial statements are for financial year 2019, beginning from April 2019 to September 2019 which is a total of 6 months instead of usual 12 months report. In comparison with last year's 12 months' total net profit of 15.61 billion Kyats, the total net profit for this year's 6 months period is 8.275 billion Kyats and, thus, we can see that, in terms of the total net profit, the performance is better  if compare  to 6 months period. Our earnings per share is also healthier for this year with 211 kyats in six months period compared to 398 kyats per share in last 12 months period. As of 30th September 2019, MTSH had a strong cash balance of 28.218 billion kyats with no borrowing. Therefore, MTSH will be able to make further investments in the opportunities which will grow our shareholders' return.
          The above-mentioned strong profit is due to the management of Myanmar Japan Thilawa Development (MJTD), which is jointly invested and managed by us and our business partners, as well as our subsidiary, Thilawa Property Development Co Ltd. (TPD), which has involved in construction businesses, the rentals and sales of residential and commercial (R&C) buildings and increase in occupancy of workers dormitories. With the further development of Thilawa Special Economic Zone, we would like to inform our Shareholders that we will generate more income from R&C buildings and thus will see increase in the annual steady income.
          During this difficult time of global pandemic, it is natural for Companies to reserve its cash flow, but our Board of Directors has unanimously decided to declare a dividend of 200 Kyats per share with the intention to support our shareholders' financial needs passively during this tough time for income and cashflow. I would also like to record and thank each and every one of our Board of Directors for agreeing and taking this decision unanimously.  
          Additionally, I would like to proudly inform that MTSH was recognized by Yangon Stock exchange (YSX) with two awards this year for its performances. One award is for Best Return on Equity and another for Best Share Price in 2019. This awarding ceremony is expected to be held in the later part of 2020. This is the testament to MTSH's favorable share price, solid business operation, robust financial performance and profits. We will continue to work hard to uphold this prestige.  
          On October 23rd, I was presented an award with the special honour for 2019 Myanmar Real Estate Personality of the Year from Property Guru Group, Southeast Asia's leading property technology Company in recognition of our contributions to Myanmar's industrial development and economy through Thilawa Special Economic Zone, which I have successively involved in the role of leading from the early stage of negotiation to the implementation and continuous developments. This Real Estate Personality of the Year award is a very prestigious award in Asia's Real estate Sector and is only awarded to an individual who has made a significant impact in the sector. Therefore, I would like to thank our Government, MTSH BOD members and our shareholders who gave me the opportunity to perform to get such an award, and the directors, the management team and staffs from our partners, MJTD and TPD, who made the Thilawa Special Economic Zone look significantly outstanding.
          I would like to further inform that we have made the purchase of our own head-office space at Penthouse of Shwe Zabu Riverview Complex's Tower A, located at Strand Road, Ahlone Township. Board of Directors decided that since the real estate sector was stagnant, it will be the best time for us to get a competitive pricing. We will upgrade it to be an international standard office and will expand more businesses in the future too. 
          This period is the period where the whole world is suffering from Covid-19 Pandemic, the like of which has not been seen for 100 years. Despite the Global Pandemic, thanks to the leadership of our Government, unlike other countries all over the world who are severely suffering, our Country is not experiencing a lot of negative effects due to people participation and contributions of Voluntary Associations, it seems to be in a contained state. However, due to the impact, the consequences could be on the international businesses being hurt or even collapsed. Currently, the Board of Directors and the employees have drawn up Business Continuity Plan (BCP), and are implementing Work-from-Home (WFH) systems by working at home and office in shift-by-shift in order to avoid the impact of Pandemic on the current operations as much as we could. Moreover, in order to see continuous growths financially and to seize any business opportunities possible after Covid-19 period, we are developing economic master plans and plans to minimize financial risks. In order to convene Annual General Meeting before June as per Myanmar Companies Act and to issue the dividends that the Shareholders have been anticipating, we have to arrange this AGM in the format of online webinar. If required, we have also made arrangements for online voting. These arrangements are as per the requirements of Ministry of Health and Sports and other authorities for the control of Covid-19 spread and social distancing. This will also be the first time in History of Myanmar Companies. Therefore, we would like to kindly request your understanding if there is any shortcoming during the event.
          In conclusion, financial year 2019 was a good year with the honorable visit of State Counselor, new chapter in investing in the Nation's urban and general development project which is different from the early days' investments in Thilawa Special Economic Zone and its related businesses, positive financial gains with strong cash reserves and profits, and expansion of businesses for the future milestones. However, we will face one of the biggest challenges of the century in 2020. During this challenging period, there will also be the opportunities and, in order to seize these opportunities with the best outcomes, our Directors and staffs will continue to accomplish with hard-work and systematic and correct decision makings. I would like to thank the directors, the management and all the staff at MTSH, MJTD and TPD for all your contribution in making us become an exemplary public company with high level of corporate governance and solid standing. I would also like to thank our Shareholders for their support by continuously and faithfully investing in our company. I would like to promise that we will continue to maintain the successes in becoming a leading public company which have been seen since the establishment seven years ago.