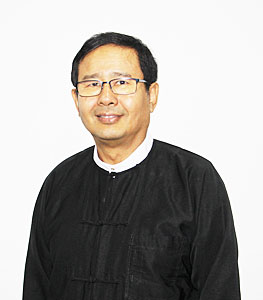 U Kyaw Zaw Wai  -  Chief Executive Officer
U Kyaw Zaw Wai is the Chief Executive Officer of Myanmar Thilawa SEZ Holdings Public Limited.
He has more than 27 years of international professional experiences in Americas and Asia with numerous senior management positions including Country Leader, Vice President Asset Management, Alliance Director, Director Accounting Services, Director Finance and Accounting, Director Planning & Analysis, Controller in leading international real estate organizations.  Before joining MTSH, he worked for the global real estate organizations including Brookfield Global Integrated Solutions from 2000 to 2006, and the world's largest commercial real estate services and investment firm CBRE from 2006 to 2018 holding various senior management positions.
He is committed to the client service excellence with proven strength in team leadership, problem solving and achieving results. His areas of expertise include strategic planning, financial management, asset management, management reporting, and budgeting and forecasting. 
He earned Bachelor of Commerce Degree from the Institute of Economics, Rangoon in 1981, Master of Business Administration Degree from the Asian Institute of Technology, Bangkok, Thailand in 1991. He also attended numerous professional development programs including, the Post MBA in Advanced Management Program at York University, Toronto, Canada in 1997, Seasoned Manager Training, Harvard Manage Mentor Program, USA in 2016.  
U Kyaw Zaw Wai is also a great community leader and he has been awarded the Queen Elizabeth II Diamond Jubilee Medal (a commemorative medal to mark the sixtieth anniversary of Elizabeth II's accession to the thrones of the Commonwealth realms) in 2012 from the Governor General of Canada for his contributions to the community and the leadership.