U Khin Maung Aye is a Vice Chairman of the Board of Directors of the Company. He is the Chairman of New City Development, which is one of the Principal Shareholders of our Company. New City Development is a public company that is engaged in town planning and infrastructure development, with the objective of improving the living standards of rural areas in Myanmar and relieving the population pressure in the big cities in Myanmar.
U Khin Maung Aye established Kaytumadi Co., Ltd in 1991 and is also the Founder and Chairman of the Kaung Myanmar Aung Group. He is also the Chairman of the KMA Shipping Co.,Ltd Citizen Business Insurance Public Limited, Myanmar Microfinance Bank Limited and Golden Myanmar Airlines Public Company Limited (all of which are associated with the Kaung Myanmar Aung Group). He is also the Chairman of Co-Operative Bank Limited and the Chairman of the Central Cooperative Society (CCS).
U Khin Maung Aye was elected as Chairman of the Myanmar Banks Association at its 15th Annual General Meeting that took place on 4 December 2015. He is the Chairman of Myanmar Investors Development Association (MIDA), which was established in 2014, the main objective of which is Bridging Myanmar to the world.
He is a member of the Private Sector Development Committee formed by the President of the Republic of the Union of Myanmar on 24 October 2016 by Notification No. 79/2016 of President's Office.
He is also a member of Farmer's Rights Protection and Promotion of Framer's Interests Steering Committee.
In additional to his expansive entrepreneurial duties, he is a well- known philanthropist. He accomplishes the humanitarian work with a unique passion and innovation.
U Khin Maung Aye graduated with a Bachelor of Science (Maths) Q2 degree from the University of Yangon in 1985.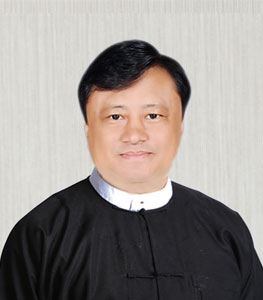 U Khin Maung Aye  -  Non-Executive Vice Chairman
Present Directorships in listed Companies -
Date of appointment  -  8.7.2013
Last re-elected  -  9.9.2017
Interest in the Company
- Indirectly: 1,860,000